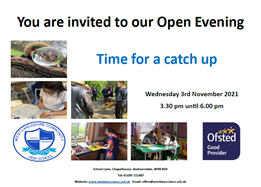 This evening will provide us with an opportunity for an informal face to face catch up following the disruption that we have all experienced during the COVID pandemic.
As a school we keep you informed of your child's wellbeing and progress through the Annual Review process and end of year reports.
However, this evening is an opportunity for you to visit the school, see the physical changes that have taken place over recent months, have presentations from key staff about the direction of the school or Key Stage area, but more importantly have the opportunity to chat informally with the key staff that support your child.
Key events planned for the Open Evening
Welcome talk from the Headteacher
Presentations from Department Leads
Support with digital services, e.g. Parent Mail, Parent Pay
Opportunity to meet with school support services, e.g. Speech and Language, Transport, School nursing team
Opportunity to meet school governors
Opportunity to join the school PTA
Tours of the school